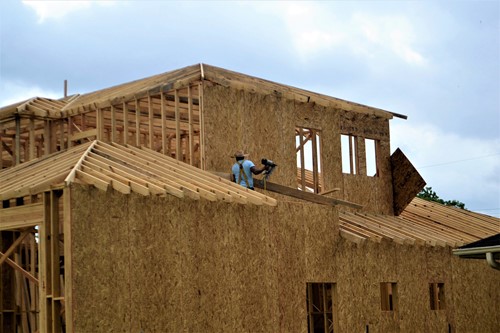 When you need more room in your house, having an addition built can provide extra space for you and your family. Home additions are complex projects, so it's important to keep certain factors in mind during the planning process. Whether you need to accommodate a growing family or add a home office for work, the following tips can help you plan your home addition.
Decide on the Type of Addition
Home additions can be done in different ways. You can build up when adding an extra room to your home, or build out and add a room on the side or back of your house. The type of home addition you choose depends on a few different factors, such as how much yard space you have and local building codes and zoning laws. You might want to add a room on the upper level of your home if you don't want to take up any yard space or if building on the side would put you too close to your neighbor's house. You might want to build on the side if you prefer having a one-story home or if local laws restrict how tall your home can be.
Check HOA Regulations, Zoning Laws and Building Codes
These rules and regulations might prevent you from doing certain types of home additions, so it's important to go over them thoroughly. Knowing what you can and can't do beforehand can help you plan a home addition that meets these regulations and laws. This can help prevent delays or other complications with your home addition project.
Create a Budget
Once you choose the type of addition that works best for your situation, you can start budgeting for it. Having a budget for your home addition is an important step in the planning process, since this is a major remodeling project. When determining your budget, include the cost of labor and materials, and keep in mind that this includes costs for adding a roof, walls, ceiling, fixtures, floors and other elements. Other costs include plumbing and electrical work. You should leave room in your budget for unexpected costs that you might need to cover during the project. This can provide you with some peace of mind and prevent you from having to pay more than you expected.
Select Materials
When you're adding a room, it shouldn't stand out from the rest of your house. Instead, your home addition should blend in seamlessly. Keep this in mind when choosing materials for the roof, siding and other exterior parts. The interior part of your home addition should also feel and look like a natural part of your home in terms of the materials you use and the decor. You should also choose windows that match the other windows in your home.
Consider Comfort
Your home addition should provide a comfortable interior, no matter what you're using it for. This means you should plan to have it heated and cooled along with the rest of your home. You might be able to add ductwork in order to make sure heat and air conditioning reach your addition, or you can choose a ductless system if needed. Your home addition should also be well-insulated to keep your energy costs down and prevent the room from getting too hot in summer or too cold in winter.