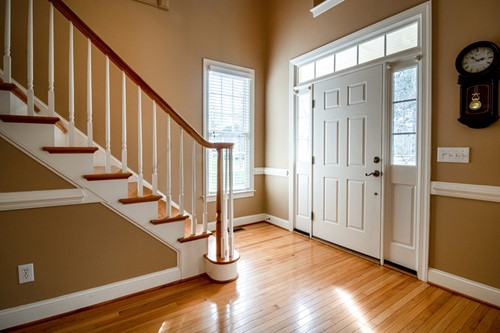 Home improvements and upgrades sometimes take a backseat when finances are involved. However, there are alternatives. The good news is DIY property owners do not necessarily need to possess professional-level carpentry skills to make meaningful upgrades. With a little DIY elbow grease, handy property owners can implement cost-effective home improvements.
1: Restore an aging wooden staircase
Although kitchens generally see the most foot traffic of any room in the house, staircases seem to sustain significant wear and tear.
Sanding hardwood staircases and restoring them to their original luster requires little money and delivers a significant return on investment. Consider using a belt sander to remove the bulk of any paint or coatings. If you don't already own one, hand-held edging sanders can typically be purchased for less than $100.
Once you have sanded the staircase down to its original wood, consider either staining it to match the decor or applying clear floor-grade polyurethane.
Homeowners will likely need to lay protective matting over the stairs while sanding them because the project usually takes more than one day. Once your relatively low-cost project is complete, luxurious wood stairways improve the ambiance and home value.
2: Refinish your kitchen cabinets
The notion of taking down kitchen cabinets and reinstalling them may seem like something only professionals can accomplish. While the process does require at least two people, it may not be as complicated as it appears. Consider following these steps to remove the units safely:
Turn off any power connected to the cabinets.
Remove any lighting or other fixtures safely.
Empty the contents of the cabinets.
Remove any loose shelving.
Remove screws attaching cabinets to each other.
Have someone hold the cabinet securely.
Locate and remove the screws attaching the cabinet to the wall studs.
The screws are typically located above the visible top, inside and underneath the cabinet. Carpentry professionals tend to favor removing inside screws followed by the lowest to the highest ones. Once you have removed the cabinets, they can be disassembled, sanded, primed, stained and coated. Follow the removal steps in reverse order to reinstall them.
3: Replace mudroom flooring
There are a wide range of inexpensive flooring products and materials the average homeowner can install in one day.
The flooring material homeowners select should match the anticipated use of the mudroom, which may involve hard impacts from foot traffic to tools used outside. It's also reasonable to expect this space will get wet and require routine sweeping. Big box home outlets offer vinyl, engineered wood and other relatively inexpensive homeowner-friendly products to install. It's important to vet the selection for its ability to resist water penetrations, denting, and cracking.
Homeowners on tight budgets may increase the peaceful enjoyment of their living spaces by making low-cost improvements and not worrying about major remodels. It's essential to feel good about being at home in small ways knowing big-ticket upgrades will happen when the time is right.